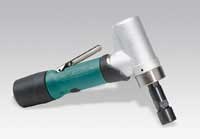 51211 .4 hp 7 Degree Offset Die Grinder
Includes 1/4" Collet Insert (50013), fits optional 1/8" (50065), 3/8" (50014), 6 mm (50016), 8 mm (50039)
Kevlar phenolic vanes for longer life. Lightweight ergonomic design for greater comfort and control.
One-piece spindle keeps all rotating components on the same centerline for reduced run-out, which means lower vibration levels and increased gear life. Air passage to continually cool the gear box longer gear life!
Pinion piloted on rotor to reduce run-out and increase gear life. Needle bearing assures proper shaft alignment increases gear life.
Dual wick lubrication system saturated with gear oil for extended gear life over 700 hours. This helps administer the right amount and keep the gear oil on the metal gears. Highest horsepower and torque levels of any similar competitive product.
Product Details
Air Inlet Thread:

1/4" NPT

Collet Size:

1/4" (6 mm)

Exhaust Type:

Rear

Height Inches (mm):

5-1/2" (140)

Hose I.D. Size Inches (mm):

1/4" (6)

Length:

8" (203 mm)

Max. Air Flow @ 90 PSIG (6.2 Bar): SCFM (LPM):

24 (680)

Motor Free Speed (RPM):

3,200

Pkg. Weight (lbs):

2.63

Sound Level dB(A):

77

Vibration Tool Peak Axis ISO8662 (m/sec²):

1.05

hp (W):

.4 (298)
Purchase Information
This item is not available and has no replacement.
Please call us at 877-774-8443 to find a suitable product to meet your needs.
---
R.S.Hughes Description
DYNABRADE 51211