Aerosol Paints, Lubricants & Maintenance
::
LPS Laboratories
::
Electrical Cleaners
::
Electro 140 Contact Cleaner
Electro 140 Contact Cleaner, 55 gallon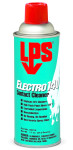 SAFE FLASH POINT With a flash point above 140°F (60°C), Electro 140° is safe to use in areas where flammability poses a potential problem. Its superior wetting and penetrating action is suited for cleaning electronic parts without leaving a residue. Electro 140° has a controlled evaporation rate, it is non-conductive and is safe to use on most surfaces.
Meets or Exceeds these Specs:
Learjet LES 1239
McDonnell Douglas CSD #1
Specifications:
Size - 55 gallon
NSN 6850-01-418-1704 (11 oz.) NSN 6850-01-418-1708 (1 gal.) NSN 6850-01-418-1699 (5 gal.) NSN 6850-01-418-1700 (55 gal.)
---
Select

Review

Volume Discount Prices:

| | |
| --- | --- |
| 1 - 4 | $2,471.71 |
| 5 - | $2,306.93 |

Shipping not included

Not Logged In: Please log in to see if custom discounts apply.

Add to a Quick Order list? (optional)

Please

log in

to use this feature.

Order
---
R.S.Hughes Description

LPS 00955 55 GAL
ELECTRO 140

Keywords

LPS LABORATORIES Electro 140 Contact Cleaner, 55 gallon LPS 00955 55 GAL ELECTRO 140 078827-00955 00955 078827009551