Labels and Printers
:: ... ::
Handheld Labelers & Supplies
::
Handheld Labelers
::
BMP™21 Printer
BMP™21 Printer Kit with Multifunctional Accessory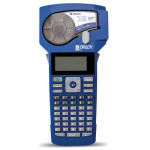 The BMP™21 Portable Label Printer is an all-in-one labeler for voice/data comm, electrical and general industrial crews. With label materials designed specifically for harsh environments, the BMP™21 portable printer can quickly and easily create clear, legible labels that stay stuck for years - despite extreme temperatures and curved or highly textured surfaces.
This BMP™21 Printer Kit includes a BMP™21 Portable Label Printer and a multifunctional accessory that allows you to operate the labeler with one hand, leaving the other hand free. The multifunctional accessory gives you convenient options for carrying and operating the label maker, and features a built-in flashlight for creating labels in dark spaces.
Specifications:
Print Resolution - 203 dpi
Print Technology - Thermal Transfer
Keyboard - ABC
Max Labels Per Day - 50 labels/day
Display - LCD
Max Label Width - 0.750"
Max Roll Length - 21'
Text Sizes - 6 (6 to 40 point font)
Color Capability - Single Color Printing
Multi-Line Print - Yes
Print Rotation - No
Serialization - Yes
Bar Code Type - 39 and 128
PC Connectivity - No
Peripheral Printing - No
Stand Alone Printing - Yes
Connectivity Options - None
Portability - Yes
Memory - Last label
Power Supply - 6 AA's, AC Power (optional)
Materials Supported - Continuous/ 41 Stock parts
Continuous vs Die Cut Labels - Continuous labels only
Weight - 1.66 lbs
Application(s) - Data Communications Labeling, Facility, Safety & Maintenance Identification, General & Industrial Labeling, Panel Identification, Wire & Cable Marking
Printer Compatibility - BMP™21
Brady Product # - 114305
---
Review

| | |
| --- | --- |
| UPC: | 662820922001 |
| Manufacturer: | BRADY |
| Manufacturer ID: | BMP21-KIT-114305 |
| RSHughes ID: | 662820-92200 |

This item price is $159.71/KT.

Add to a Quick Order list? (optional)

Please

log in

to use this feature.

Order
---
R.S.Hughes Description

BRADY BMP21-KIT-114305


Keywords

BRADY BMP™21 Printer Kit with Multifunctional Accessory BRADY BMP21-KIT-114305 662820-92200 BMP21-KIT-114305 662820922001