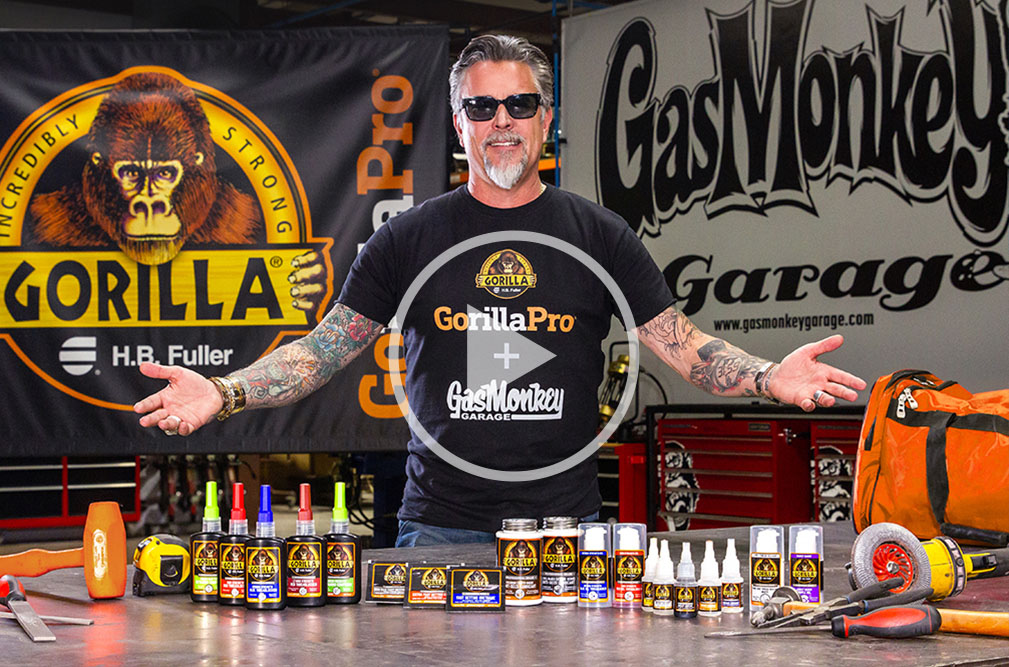 "You're in the right spot for
GorillaPro® products!"
Get your hands on the professional grade products Richard Rawlings and his team at Gas Monkey Garage® use in their shop.
Gorilla Professional Grade® combines technology, innovation, and brute strength to deliver an MRO product line that offers heavy-duty, high-performance solutions for every industry. With unique packaging, dispensing, and selection resources, GorillaPro products bring you the next evolution of industrial-grade adhesives, sealants, and lubricants.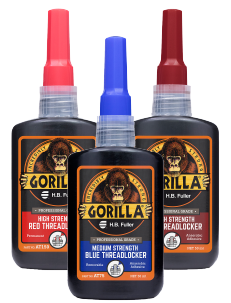 Grip That Won't Let Go
Professional Grade Threadlockers
Protect your threaded assemblies with GorillaPro® Threadlockers – formulated with reliable, anaerobic technology that works to lock and seal metal fasteners and prevent loosening due to vibration, corrosion, galling, and other harsh chemicals that can ultimately lead to mechanical failures.
Reliable fastener locking
Protects in harsh environments
Prevents rust and corrosion
Zero-clog nozzle tips
Grab-and-go, color-coded caps
Easily applied with gel or liquid
Get 10% Off *offer applied in cart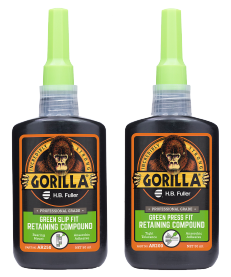 Make Powerful Connections
Professional Grade Retaining Compounds
Form strong precision assemblies with GorillaPro® Retaining Compounds – designed to fill gaps between components and secure bearings, brushing, keyways, and cylindrical parts into housing or onto shafts to prolong equipment life, enhance efficiency, and protect against causes of component failure.
Fills inner space between components
Cures into a hard thermoset plastic
Resists loosening
Available in slip fit or press fit formulas
Grab-and-go, color-coded caps
Better load transmission and performance
Get 10% Off *offer applied in cart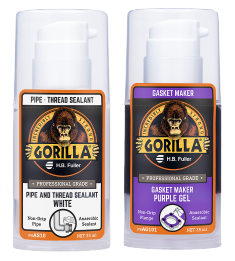 Performance Under Pressure
Professional Grade Gaskets & Sealants
Protect critical components with GorillaPro® Gaskets & Sealants – designed to reliably prevent liquid and gas leaks over a long period of time by creating a seal in applications such as pipes and hydraulic hoses, and by providing a flexible gasketing solution for rigid machined flanges to replace and outperform paper, rubber, and cork gaskets.
New 35ml gel pump dispenser
No drip
No mess
No waste
Eliminates priming
Easy to use
Get 10% Off *offer applied in cart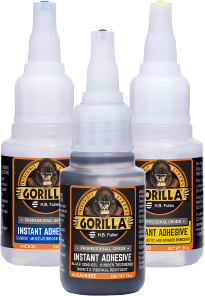 Bonds Like a Beast
Professional Grade Instant Adhesives
Create crazy tough bonds with GorillaPro® Instant Adhesives – formulated with high-performance, high-strength cyanoacrylate that offers increased impact resistance and resilience to wear and tear on a variety of materials, including plastic, metal, stone, ceramic, paper, rubber, and more.
Liquid & gel formulas
Cures fast at room temperature
No mess
Grab-and-go, color-coded caps
Soft squeeze bottles for easy application
Controlled dispensing tip for less waste
Get 10% Off *offer applied in cart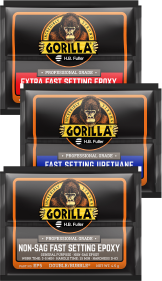 Hard as Nails
Professional Grade Epoxies & Urethanes
Readily bond a wide range of substrates with GorillaPro® Epoxies & Urethanes – strong, versatile, rigid adhesives suitable for bonding most surfaces in a huge array of applications and operating conditions – while providing exceptional chemical and heat resistance, adhesion and water resistance, and mechanical and electrical insulation properties.
DOUBLE/BUBBLE® Pocket Packs

Proper mix ratio – no mistakes
Single use package – travels well
Sealed for protection – no contamination
Color-coded to grab-and-go
No messy tubes with ill-fitting caps
Get 10% Off *offer applied in cart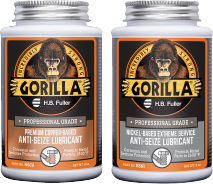 Bring the Heat
Professional Grade Anti-Seize Lubricants
Protect bolt and pipe threads in extreme environments with GorillaPro® Anti-Seize Lubricants – designed to provide a protective barrier between mechanical parts to prevent seizing and galling in corrosive or high-temperature environments, while also lubricating threads and bolted joints to allow for easy disassembly.
Copper and nickel formulas
Lubricates and seals threads
Withstands high temperatures
Resists rust and corrosion
Handy brush-top applicator
Allows for easy disassembly
Get 10% Off *offer applied in cart