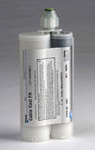 Devcon Two-Part Black Urethane - Liquid 400 ml Cartridge - 10 min Working Time - Shore Hardness 88 Shore A, Tensile Strength 18 MPa - 15051
Devcon black two-part urethane is compatible with concrete, fiberglass, metal, rubber and wood materials with a 2 hr cure time. Provices a 10 min working time. Works in a mix ratio of 2:1. Delivers great performance with tensile strength of 18 MPa. Maximum operating temperature is +179.6 °F.
Product Details
Purchase Information
This item is not available and has no replacement.
Please call us at 877-774-8443 to find a suitable product to meet your needs.
---
R.S.Hughes Description
DEVCON CABLE CAST FR
380 ML