Adhesives, Sealants, and Coatings
:: ... ::
Applicators and Parts
::
Polygun EC
3M(TM) Polygun(TM) EC Applicator, 120V, 1 per case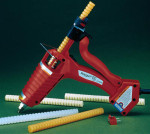 This versatile applicator can be used for a wide range of jobs. It provides multiple temperatures with choice of pre-set temperature module kits that insert into the handle. Capable of dispensing new low melt 3M(TM) Jet-melt(TM) adhesives.
---
Review

| | |
| --- | --- |
| UPC: | 021200895197 |
| Manufacturer: | 3M |
| Manufacturer ID: | 62968099309 |
| RSHughes ID: | 021200-89519 |

Volume Discount Prices:

| | |
| --- | --- |
| 1 - 4 | $512.50 |
| 5 - | $440.32 |

Shipping not included

Not Logged In: Please log in to see if custom discounts apply.

Add to a Quick Order list? (optional)

Please

log in

to use this feature.

Order
---
R.S.Hughes Description

3M GUN EC APPLICATOR
62-9680-9930-9

Keywords

3M 3M(TM) Polygun(TM) EC Applicator, 120V, 1 per case 3M GUN EC APPLICATOR 62-9680-9930-9 021200-89519 62968099309 00021200895197