Aerosol Paints, Lubricants & Maintenance
::
LPS Laboratories
::
Corrosion Inhibitors
::
Cold Galvanize Corrosion Inhibitor
Cold Galvanize Corrosion Inhibitor, 14oz. Net Wt. Aerosol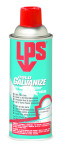 99% ZINC RICH Cold Galvanize provides a smooth uniform coating that performs like a hot dip galvanize to prevent rust and corrosion on all types of metals for up to three years. It provides a tough, flexible coating that will not crack or peel even in extreme heat or cold. It dries in 3-5 minutes and withstands water temperature up to 212°F (100°C) and continuous dry heat up to 750°F (400°C). Cold Galvanize works as a paint primer over rust.
Meets or Exceeds these Specs:
Specifications:
Size - 14 oz
NSN 8010-00-214-7241 (14 oz)
---
Select

Review

Volume Discount Prices:

| | |
| --- | --- |
| 1 - 11 | $14.30 |
| 12 - 59 | $13.02 |
| 60 - | $12.15 |

Shipping not included

Not Logged In: Please log in to see if custom discounts apply.

Add to a Quick Order list? (optional)

Please

log in

to use this feature.

Order
---
R.S.Hughes Description

LPS 00516 14OZ
COLD GALVANIZE

Keywords

LPS LABORATORIES Cold Galvanize Corrosion Inhibitor, 14oz. Net Wt. Aerosol LPS 00516 14OZ COLD GALVANIZE 078827-00516 00516 078827005164 078827-05616 078827_05616