Aerosol Paints, Lubricants & Maintenance
::
PT Technologies
::
Solvent/Degreasers
::
PF® Solvent Cable Cleaning Kit
PF® Solvent, 1 gal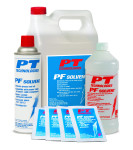 PF® Solvent is a penetrating degreaser which removes grease and oil. With a flash point above 140°F, PF® Solvent is designed especially for the power utility industry. PF® Solvent is compatible with all types of components and materials used in power utilities. PF® Solvent has proven to be valuable to power plants as well as cable and equipment manufacturers operating in the power utility market place. PF® Solvent does not contain chlorinated solvents such as trichloroethylene and perchloroethylene. PF® Solvent evaporates completely and leaves no residue.
Meets or Exceeds these Specs:
ARP 1755A
AMS-1526B
Douglas CSD #1
ASTM D-3257, d-1693, F-502, F-485, F-1110, F-484, F-483, F-519, F-1111, F-1105, F-945
Boeing D6-17487, Rev J,
MIL-I-25135E
MIL-PRF-680 Type IV
Specifications:
---
Review

Volume Discount Prices:

| | |
| --- | --- |
| 1 - 3 | $82.80 |
| 4 - 19 | $75.41 |
| 20 - | $70.38 |

Shipping not included

Not Logged In: Please log in to see if custom discounts apply.

Add to a Quick Order list? (optional)

Please

log in

to use this feature.

Order
---
R.S.Hughes Description

LPS 61401 1GAL
PF SOLVENT

Keywords

LPS LABORATORIES PF® Solvent, 1 gal LPS 61401 1GAL PF SOLVENT 078827-61401 61401 078827614014