Labels and Printers
:: ... ::
Handheld Labelers & Supplies
::
Labeler Tapes & Labels
::
BMP™71 Media Rolls
0.25 in x 1.5 in (6.35 mm x 38.1 mm); BMP™71 Labels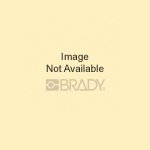 Labels for the BMP71 Label Printer. Please Note: This material is UL approved with its respective ribbon. See the "Recommended Ribbon Series" for the appropriate ribbon to use.
Specifications:
Size - 0.25 X 1.5
Application - BMP™71 Labels
Color - N/a
---
Select

Review

| | |
| --- | --- |
| UPC: | 662820927129 |
| Manufacturer: | BRADY |
| Manufacturer ID: | M71-28-499 |
| RSHughes ID: | 662820-92712 |

Volume Discount Prices:

| | |
| --- | --- |
| 1 - 4 | $55.68 |
| 5 - 9 | $51.10 |
| 10 - | $49.09 |

Shipping not included

Not Logged In: Please log in to see if custom discounts apply.

Add to a Quick Order list? (optional)

Please

log in

to use this feature.

Order
---
R.S.Hughes Description

BRADY M71-28-499
0.25 X 1.5

Keywords

BRADY 0.25 in x 1.5 in (6.35 mm x 38.1 mm); BMP™71 Labels BRADY M71-28-499 0.25 X 1.5 662820-92712 M71-28-499 662820927129