Adhesives, Sealants, and Coatings
:: ... ::
Cylindrical Assemblies (Retaining)
::
High Temperature
Loctite® 640™ Retaining Compound; 250ML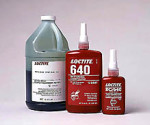 Loctite® Sleeve Retainer 640™ is a high temperature anaerobic adhesive that secures slip and press fit assemblies. Adds up to 3,000 psi holding power. Restores fit to worn or out-of-tolerance assemblies. Prevents surface corrosion. Works to 400°F.
Specifications:
Approvals - Military Specification
---
Review

Volume Discount Prices:

| | |
| --- | --- |
| 1 - 9 | $176.58 |
| 10 - 49 | $138.55 |
| 50 - | $126.84 |

Shipping not included

Not Logged In: Please log in to see if custom discounts apply.

Add to a Quick Order list? (optional)

Please

log in

to use this feature.

Order
---
R.S.Hughes Description

LOCTITE 640 250ML
RETAINING CMPND

Keywords

Loctite Loctite® 640™ Retaining Compound; 250ML LOCTITE 640 250ML RETAINING CMPND 079340-64041 64041 079340640412