Performance Under Pressure
Prevent Leaks. Reduce Downtime.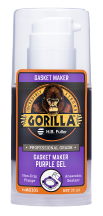 Gasket Maker Purple Gel
GorillaPro™ AG101 seals close-fitting flanges on rigid metal assemblies while maintaining durability for reliable gasketing. This product is ideal for securing differential cases, transmissions, and oil pans. Its resilient formula withstands high temperatures and pressures, and it won't shrink, crack, or relax. Use as a replacement for pre-cut or compression gaskets.
View Product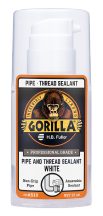 Pipe and Thread Sealant White
GorillaPro™ AS10 provides an immediate, low-pressure seal of tapered threads on metal pipes and fittings. It protects critical mechanical components from liquid and gas leaks. Use only on clean surfaces and in thin bond gaps. This product withstands most chemicals and is formulated to fill space between threaded parts on pipe fittings and hydraulic hoses.
View Product